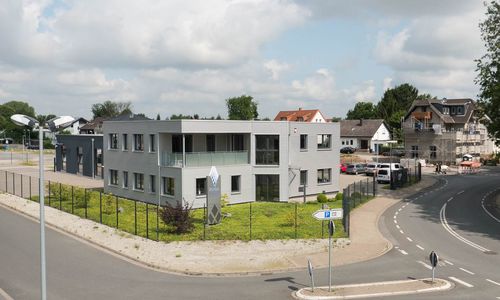 We are an innovative company with headquarters in Soest in North Rhine-Westphalia. Since our establishment in 1990, our core competency has been the development, design and manufacture of modern equipment based on ultrasound and its periphery.
Our core business is ultrasonic air humidification with the AIRWIN brand. Humidification is used in many different applications. Our focus is on quality, customer satisfaction and energy efficiency. We comply with sustainability requirements not only by providing our energy-efficient ultrasonic technology, but also by using our devices for the humidification of fresh produce such as fruit and vegetables.
Demineralised water is used for air humidification. For this purpose, we use the reverse osmosis systems of the REOS brand. Reverse osmosis systems are also interesting for the beverage industry, laboratory equipment, in the medical industry, pharmacy and more. The REOS product range offers different reverse osmosis systems with a wide range of output capacities and applications which can be adapted to customer-specific requirements.
Based on ultrasonic technology, the FUNA brand has been developed. It stands for patent-based high-precision nebulization of fluids, especially for disinfection in industry and the medical sector. Thanks to the continuous development of the product range, we keep up with the latest developments.
Benefit from our service and our experience! We gladly support you with unusual projects and special applications.